One day Cookery Courses every Tuesday.

We are delighted to offer culinary courses throughout the year between March and October, excluding July and August.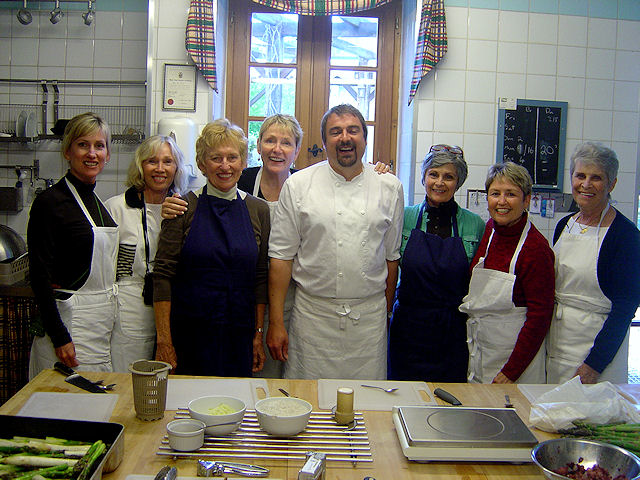 Ian trained as a chef at Le Talbooth restaurant in Suffolk England and has a real passion for food, this was one of the deciding factors in moving our family to the Dordogne, which is renowned as the gastronomic capital of France. The Perigord Noir is famous for its fois gras, truffles, confit de canard, walnuts, geese, magret de canard, cabecou goat cheese, cepes, sanglier, venison, escargot etc
The day begins at 9am with the participants meeting each other over coffee, leaving for the market at Le Bugue at 9h15. The local markets are bursting with ingredients and inspiration and Le Bugue market is no exception. Whilst here you will have the opportunity to visit various stalls with Ian explaining the vast array of produce and sharing his experience and knowledge.
You will buy the ingredients to prepare and cook a regional lunch and various regional taster dishes. One back at Le Chevrefeuille you will experience a fun, informal and hands on day preparing, cooking and tasting the regional dishes such as confit of duck, cabecou, tapenade, a regional veloute, cepes, foie gras and oysters as an example.
The course finishes at approximately 4pm.
Hints on how professional cooks get the maximum flavour out of the best ingredients ,which is key for a great plate of food, will be high on the agenda.
Our courses change throughout the year as the seasons change and the produce is at its best. We regret that we do not offer courses throughout July or August as the heat of the kitchen and the tourist numbers at the market lessens the course experience.
150 euros per day
Included in the price is:
Hands on tuition in English
Ingredients
Utensils
Lunch  (eat what you cook)
Aprons
Receipes
Here is a list of dishes you maybe cooking
Mis en bouches such as cauliflower veloute with truffle oil
Tapenade
Pate with cèpes
Artichoke with vinaigrette
Oysters Kilpatrick
Foie gras
Warm cabecou and cherry sauce
Confit de Canard
Venison
Pomme salardaise
Petit pois de française
Chocolate fondant (works every time)
Creme Brulée
Red fruit Souffle
Testimonials
"Exceptional"
Thanks for a fantastic cookery course. Its been great fun especially the blow torch and the crème brûlée. I've really enjoyed the tuition – very relaxed but informative & of course the sampling of our cooking and accompanying wine.
I am very much looking forward to joining you again on the next one

– Anne Newson, Gatwick, England
"A perfect end to a perfect holiday"
Ian, Thanks – the cookery course was fabulous – good food, good fun, good memories and so many wonderful tips! When I slice thin I'll remember you! The walks and market visit were especially wonderful. Thanks for everything. We'll be back!

Judi & Eric, London, England
Word from Ian
" From the moment I set foot in the Perigord Noir, I knew it was the place that I wanted to be. The local people have respect, passion and knowledge for local food and ingredients that comes from working the land and making the most of everything that is available. In the Perigord eating is a way of life, a source of pleasure and friendship.
Despite cooking for all of my adult life, I am constantly learning and recently have started to do a lot more foraging for food, enjoying the countryside and cooking free food is my idea of heaven!

We hope to share our home, our passions and our love of the local dishes with you."