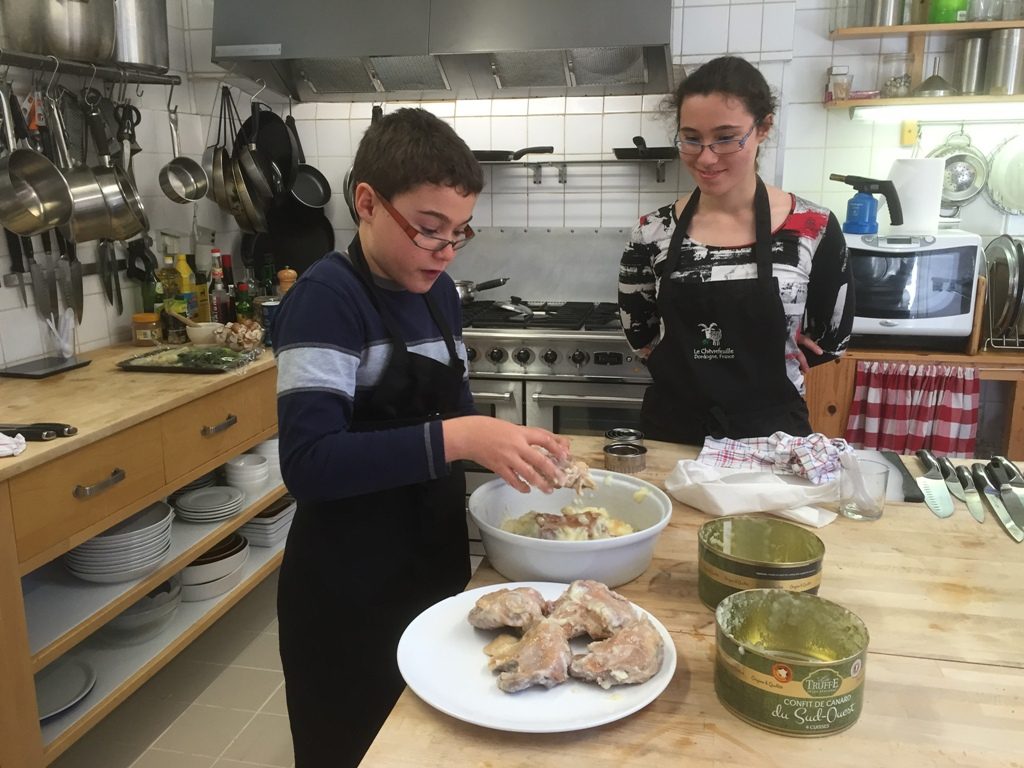 When: 10am – 1pm Wednesday and Thursday mornings (subject to a minimum four participants)
Where: CookDordogne at Le Chevrefeuille, Pechboutier, St Cyprien, France
Price: €50 per person
Due to overwhelming demand, Le Chevrefeuille chef Ian will offer his much-loved Cookery Courses for families, groups with children or just children in 2016!
Kicking off at the all-age appropriate time of 10am these brand new, exciting Family & Junior Chef Cookery Courses begin with an introduction to local ingredients for which the Perigord Noir is famous.
Armed with market-fresh produce, it's into the Le Chevrefeuille kitchen for a hands-on session of preparing and cooking delicious and surprisingly simple dishes that junior chefs can re-create at home.
Examples of dishes taught on Le Chevrefeuille Junior Chef Cookery Course:
Tapenade
Salmon mousse
Crudités with three dips
Vegetable and duck skewers
Crème du Barry (cauliflower soup)
Shredded duck with potato
Chocolate fondant
Junior chefs leave with an e-book of recipes and a Le Chevrefeuille Junior Chef Cookery School Certificate of Participation. Parents and guardians will leave smug in the knowledge that the kids can now help out in the kitchen!
Read some of the wonderful reviews from previous Le Chevrefeuille Family & Junior Chef Cookery Courses participants:
"Our kids had the best time on the Le Chevrefeuille Family Cookery Course. Ian is a brilliant teacher for kids at all levels, with a sense of humour and kind manner that put our kids at ease immediately. The class was informative, interesting and above all so much fun. I cannot recommend this class highly enough; our kids voted it the best activity they did during their fortnight in the Dordogne."
"My husband and I and our 2 kids had such a ball on this cookery course! Ian's a five star chef, teacher and comedian. He had our kids entertained throughout – even our too-cool-for-school 11 year old got into it and was laughing his head off at Ian's jokes. Unbelievably both our kids now help out in the kitchen… I think Ian may have inspired a couple of future chefs! Thanks so much Ian and Sara – best family holiday activity we've ever done, loved it and will return!"
"Thank you so much Ian for the marvellous cooking school. My kids have mastered the chocolate fondant, which they've made as a treat every weekend since we got back. Our eldest, Matthew, just told me he loved your course because you made him feel part of the 'grown up's world' and he really liked the challenge of getting things prepared to cook on time. I think that's a pretty big compliment to your teaching style and wanted to let you know. Thanks again! We're really impressed."
To enrol for Le Chevrefeuille Family Cookery Courses in 2016, please email: info@lechevrefeuille.com